Links

Most of the hundreds of internet sites on life in the Netherlands are in Dutch. The following sites, however, are in English:

www.nbt.nl
The Netherlands' Tourist Board's site. Information on 25,000 things to do and places to stay. An ideal starting-point for planning a trip to the Netherlands.

The Austerlitz Pyramid offers splendid views of the extensive forested region of the Utrecht range of hills between Rhenen and Zeist. Napoleon's troops built the tower early in 1800 near the hamlet of Austerlitz. These days, the tower is a tourist attraction. It stands some 25 metres tall and lies in the municipality of Woudenberg. Foto Rien Zilvold
www.schiphol.nl
Information on Amsterdam's Schiphol Airport. Arrivals, departures, how to get to Schiphol and how to find your way around it.
www.ns.nl/reisplan2.asp
Information on the Dutch Railways. Timetables for both national and international train travel. Includes an online Journey Planner.
www.pscw.uva.nl/sociosite/
Amsterdam If you plan to stay in Amsterdam, go here. An essential site with hundreds of links to just about everything. Emphasis on Amsterdam but enough links to national sites as well.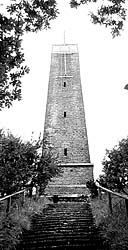 Foto Rien Zilvold
www.travlang.com/
languages A quick and helpful course to help you learn a few phrases in Dutch. It will help you to order a cup of coffee, and even includes a dictionary.
www.odci.gov/cia/publications/factbook
The CIA's official site. Mostly statistical information, but they do seem to know an awful lot about the Netherlands: 3,642,218 Dutch males are fit for military service, we own 13,5 million radios and have 6340 kilometres of waterways.
www.intellicast.com/weather/ams
A four-day weather forecast for Amsterdam. A forecast for Maastricht is also available.
www.dna.lth.se/cgi-bin/kurt/rates
See what your money is worth in the Netherlands. Converts to and from dozens of currencies.
www.amsterdamarts.org
The cultural agenda of Amsterdam. Tells you what's on in Amsterdam, how to get there and how to purchase tickets.
www.flowerweb.nl
Everything you always wanted to know about flowers. Includes links, news and coming events.