Public holidays


Christian holidays
Easter, Ascension, Whitsun and Christmas are all celebrated in the Netherlands. Whit Monday and Boxing Day are also public holidays on which shops are generally shut.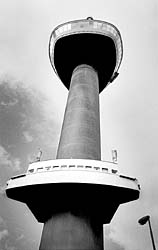 The Euromast, built in 1960, is one of Rotterdam's most important tourist attractions. It is 180 metres high and affords splendid views of the city and its port. The Heijplaat district on the 1298494835the employees of the Rotterdam Dry Dock Company. Just behind that lies the 'village' of Pernis with its skyline filled with the chimneys and refineries of the petrochemical industry. Foto Rien Zilvold
The Queen's Birthday
The Queen's birthday is celebrated annually on 30 April. Festivities are held all over the country, including fairs and public markets.
Remembrance Day
Every year on 4 May at eight o'clock in the evening, the nation stops for two minutes' silence in remembrance of the victims of all wars since the beginning of the Second World War. Remembrance services are held around the country. Flags are flown at half-mast.
Liberation Day
5 May marks the liberation of the Netherlands from German occupation in 1945. Liberation day is a public holiday once every five years.

Foto Rien Zilvold
Saint Nicholas' Day
5 december is Saint Nicholas' Day. St. Nicholas is the legendary children's friend with a white beard and a bishop's habit. On his saint's day, children are given presents and sweets.
New Year
Contrary to practice in most countries, the Dutch celebrate the New Year with an abundance of fireworks. The first of January is a public holiday.
Other days
In the predominantly Catholic southern provinces, public life grinds to a halt for Carnival (February, March). Celebration of April Fool's Day (1 April) remains popular, while Labour Day (1 May) has mostly lost its significance in the Netherlands.