Innovator | Film Director | Businesswoman | Amazon | The Conductor | The Designer | Rock Band | The Chess Player | TV Presenter | Scientist | Top Civil Servant | Photographer


Innovator
Michiel Frackers (1968)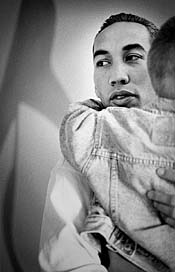 Photo by Joyce van Belkom
Has an instinct for developments in the world of high-tech. Studied communication sciences at San Francisco State University and the University of Amsterdam. In June 1995, aged just 25, founded Planet Internet, an internet provider that not only offers local-rate internet access but also combines online information services with commercial web sites. Within three years, the company had 150 employees. At the time, Planet Internet was the largest Internet provider in the Netherlands. Has since invested his money in BitMagic, a new company that provides up-to-date online humour and other amusing information. Is currently in the process of founding a charity that will share out half of his profits from BitMagic over projects in deprived areas in the Netherlands and the Third World.
Film director
Martin Koolhoven (1969)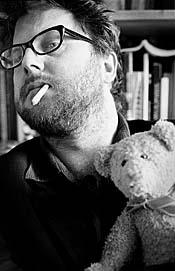 Photo by Joyce van Belkom
Graduated from the Amsterdam Film Academy in 1996. Subsequently made ten video clips and a number of films including Chess (1993) and KOEKKOEK! (1995). Hopes to make his cinema debut shortly with Amnesia, a cynical and mysterious tale on which he is currently completing work. Hopes one day to make a film that will get the whole world talking. His breakthrough came this year with the made-for-TV film Suzy, which got him rave reviews. Earlier praise came for the film Duister Licht (Obscure Light), which was nominated for two Golden Calves (the Netherlands' most important film awards). Describes the relation between the Netherlands and film as ''difficult'', but sees change ahead. Wants to contribute to an increasing appreciation for Dutch cinema.
Businesswoman
Ariane Inden (1967)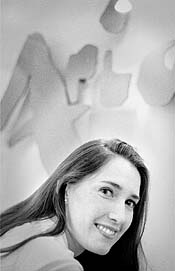 Photo by Joyce van Belkom
Started a business administration course in 1985, obtaining the degree of Bachelor of Business Administration Nijenrode. Went to Phoenix, Arizona in 1991 and became Master of International Management. Started her own cosmetics company in 1992 with the man who is now her husband. Opened a shop and beauty centre in Amsterdam and launched her own cosmetics brand, Ariane Inden. Offered 120 different hair-care and perfume products. Went 'international' in 1997. Launched a perfume for mothers and small children under her son's name, Alec. Now owns a chain of stores with 40 branches in the Netherlands and 5 branches in Germany. Doesn't consider herself at the height of her capabilities yet and wants to be even more innovative in the new millennium.
Amazon
Marlies van Baalen (1980)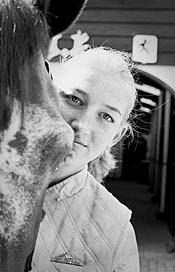 Photo by Joyce van Belkom
Has been horse riding since the age of four. International breakthrough in show jumping came eight years later. Currently jumps at Young Riders level (16 to 21 year-olds). Daughter of international show jumping amazon Coby van Baalen, who is also her trainer. Became Dutch junior champion for the first time in 1996, going on to hold her title in 1997. Did the same in 1998, combining that feat with victory in the European junior championship in both the individual and the team event. In the same year won the title of Rabobank Talent of the Year. Puts her success down mainly to two family-bred horses, Inspekteur (bred by her grandfather) and Habibi (bred by an aunt). Definitely wants to continue her career in show jumping after finishing her secondary education, preferably by attending a course in Germany.
Conductor
Peter Dijkstra (1978)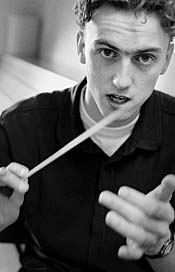 Photo by Joyce van Belkom
Started singing in a choir founded by his father at the age of six and has yet to escape from the anecdote that as a baby he could only be made tot stop crying by playing a Tchaikovsky symphony. Deputised for his father as choirmaster at the age of ten. Responded to an advert by a choir in Groningen three years later, lied about his age and was taken on as choirmaster. Started at the Royal Conservatory in The Hague three and a half years later, studying solo singing and chorus conducting. Expects to graduate this autumn. Currently conducts five choirs, including the National Children's Choir and is repetiteur of the Choir of the Dutch Bach Society. Professional highlight so far: a guest conductorship at the Conservatoire Nationale Supérieure de Musique in Lyon, where he performed the Matthew Passion.
The designer
Tsur Reshef (1969)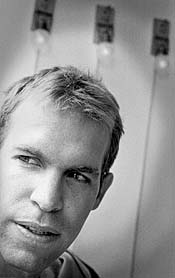 Photo by Joyce van Belkom
Studied industrial design at the Gerrit Rietveld Academy in Amsterdam from 1993 to 1997. Worked for a firm of architects before founding his own design studio in 1998: tsu.R. Considers this move the highlight of his career to date. Became well known with his 1998 ASA100 lamp, which is currently in the collections of museums in San Francisco, Amsterdam and Tel Aviv. Seeks ''the unique within the ordinary'': draws inspiration from everyday objects such as his childhood toys or his mother's bed lamp. Admires physicists such as Edison and Einstein and explicitly applies basic laws such as gravity in his designs. Art critics predict long-term international fame because of his accessible and humorous designs. Tsur's: ''I live in the present, I will take every day as it comes. I don't want to burden myself with ambitions.''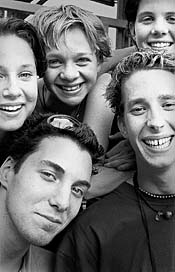 Photo by Joyce van Belkom
Rock group that consists of three girls and two boys aged between 15 and 19. Lead singer Jacqueline, who already sang and played the piano, was inspired after seeing the Belgian band K's Choice at the Dutch Pinkpop festival when she was 14 years old. ''I want that too,'' she thought. She formed Krezip in 1997 with her sister Anne and her friends Joost, Annelies and Thijs on drums. Easily won two competitions for new bands in their first year. This landed them a number of gigs at Dutch pop festivals and the opportunity to record a demo, which Music Maker immediately labelled Demo of the Month. They hope to complete work on their first proper album in March 2000 and become professional musicians after finishing school. The music critics seems to agree: ''great talent'' and ''most promising band around today''.
The chess player
Daniël Stellwagen (1987)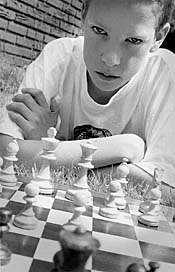 Photo by Joyce van Belkom
Learned how to play chess 'for a laugh' from his mother at the age of seven and quickly beat her. Now spends several hours behind a chessboard or a chess book almost every day. Currently trained by international chess master Cor van Wijgerden. Became Dutch under-13 champion last May and will participate in the European championships this autumn. Personal highlight: the VAM Chess Tournament in Hoogeveen in 1998, where he was invited to compete against grandmasters. Raised eyebrows by ending as best junior in seventh place with five points. His personal example is Gary Kasparov, not only because he is a fabulous chess player but because of his ''great aura''. Says about his future in chess: ''I want to become a grandmaster but, most importantly, I want to achieve what I am capable of.''
TV presenter
Daphne Bunskoek (1973)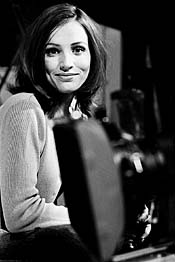 Photo by Evelyne Jacq
One of the faces of Dutch pop television channel The Music Factory (TMF). Presents various programmes and has gained enormous popularity among the young. Fell into the profession by accident. Studied languages at the University of Rheims for a year after completing school. Upon her return, embarked upon a course in Applied Didactics at the University of Twente but soon switched to drama school. Did an internship with the Loose Moose Theatre Company in Calgary in Canada. Took part in a number of productions in the Netherlands. Auditioned for a part in a regional television production of Peer Gynt and was immediately asked to do a screen test. First television appearance was as presenter of a youth programme. Applied for a job at TMF, where she now presents no fewer than five programmes.
Scientist
Renske Hesselink (1982)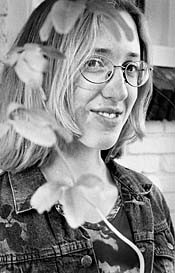 Photo by Joyce van Belkom
Talent for exact sciences inherited from parents, chemist and biologist. Is getting straight A's on her chemistry reports in her penultimate year at school. Took part in the Chemistry Olympiad in Eindhoven in June 1999 where she out-performed most final-year pupils to finish in tenth place. Insiders consider her to be an extremely talented scientist. Wants to study molecular sciences in Wageningen. Future plans include a PhD or at least an internship abroad. Ambition: an important scientific discovery, such as a medicine against a disease. Calls herself a realist: ,,Very few people ever become famous scientists. Enjoyment in what I do is the most important thing for me.'' Her hobby is cooking, an art in which chemistry also has its uses: ,,When I make bread, I understand how the yeast does its job.''
Top civil servant
Richard van Zwol (1965)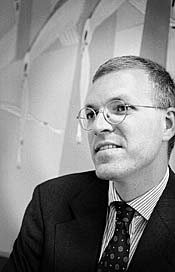 Photo by Joyce van Belkom
At the age of just 34, Van Zwol finds himself in pay scale 17 after a series of rapid promotions within the civil service. Graduated in Law and Public Administration in 1989. Moved directly into a job at the Finance Ministry. Was responsible for a number of policy areas including the Education budget. Switched to the Interior Ministry in 1997. Managed the integration into the ministry of the former Cabinet for Netherlands Antilles and Aruban Affairs. Heads the Directorate of Financial and Economic Affairs. Says he opted for a career in the civil service because it offered a ''fascinating, broad and socially relevant field of work.'' An ambitious man, but one who does not want to lose sight of his personal life. Is an active member of various organisations including his professional society and local residents' association. Wants to make time in the future for travelling.
Photographer
Joyce van Belkom (1973)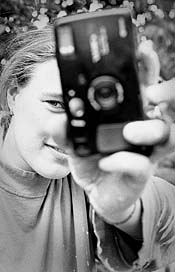 Photo by Joyce van Belkom
Took the portraits in this series. Specialised in photography during a four-year course at the Sint Joost Academy for Visual Arts in Breda. Did an internship at NRC Handelsblad as a press photographer. She won the 1998 incentive prize from the Silver Camera Foundation for her 1997 work. Now works as a freelance photographer and is working with six other young photographers on a photo book. Generally prefers people as subjects and feels involved with their social environment. Admires the English photographer Nick Waplington. Knew that she wanted to become a press photographer after a trip to Northern Ireland in 1995. Tried to capture the human dimension of the conflict during her journey. Subsequently made photography trips to the Basque country, Moscow and Romania.